In Memory Of
PFC Herbert J Krieger
143rd AAA Gun Battalion - D Battery - World War II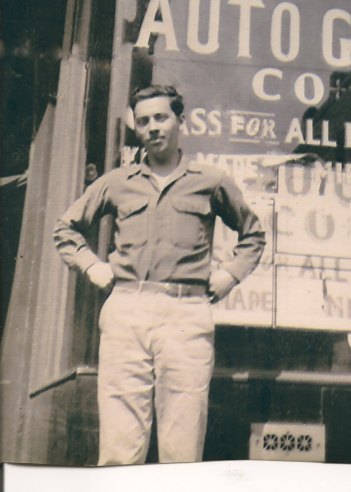 Herbert Krieger, b. 12-20-1919, d. 1-20-1962
My father, Herbert Krieger, was 23 when he was drafted into the Army in 1943, and had just turned 26 when he was discharged on January 24, 1946.
While he was overseas, his family had moved into the house next door to my mother's family. And, when he returned, they met, and married almost exactly three years later, in January 1949.
In the meantime, he returned to the job he had before the War; he was a glazier at his brother in law's automobile glass shop.
Dad and Mom had three children, first me, then a son, Brian, and another daughter, the youngest, Robin.
He was a wonderful, funny, inventive father. He spent a lot of time playing with us, teaching us songs and stories and helping with homework.
He was very generous, although he never had a large income, he helped his parents and siblings and our house was a home away from home for all of the kids in the neighborhood.
He loved to listen to the ballgames; we would sit on the porch in the summertime, eating snowballs and listening to the game.
He would take us down to the playground, along with our friends, and treat us all to ice cream or other treats on the way home. He loved music, and played his Bing Crosby records singing along merrily.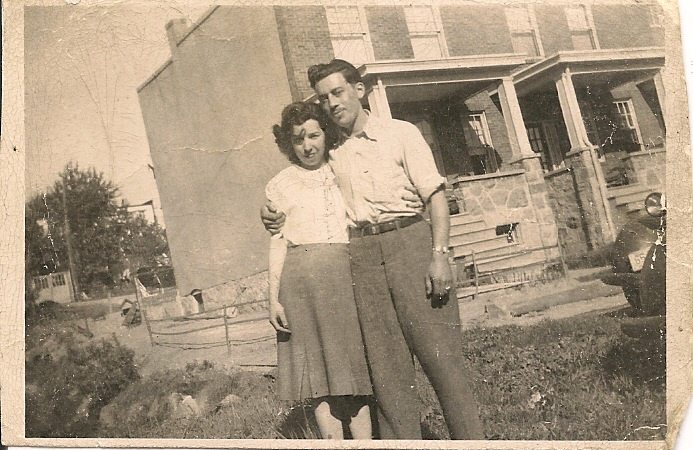 Unfortunately, by the early 1960's my father was fighting cancer, and in January of 1962, at the age of 42, he died of leukemia.
Although I was only 12 years old at the time, I have fond memories of him singing war songs and telling stories of his time in France.
I don't remember any specific soldier's names, but, from the tone of his stories, he must have made friends among his fellow soldiers.
Although he passed away almost 50 years ago, not a day goes by that I don't remember him, and smile fondly.
He was a great man!