Army 'Book of Memories'
James Frank Alban Sr
1925-2008
143rd AAA Gun Battalion - WWII
Related Links
Battle of the Bulge The Ardennes Offensive (16 December 1944 - 25 January 1945)
90mm Anti Aircraft Artillery The 90mm AAA had an altitude capability of 30,000 feet and a range of 14 miles, firing a 24 pound shell......
The Story of the 143rd AAA Mobile Gun Bn. and the Battle of the Bulge Written by David Spitz, the son of T/5 Morton Spitz Includes actual correspondence from some of the men who served in the 143rd.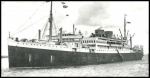 Troop Ships HMS Highland Brigade
Highland Brigade A short while before the convoy was due to sail the 'Royal Mail Line' ship "HIGHLAND BRIGADE", an old coal burning ship, arrived from South America with a load of export meat both frozen and tinned, for the British market. This ship was commandeered by the Army for us.............
Highland Brigade Highland Chieftain - (Royal Mail: 1932-1958 - 14,131gt) - Highland Chieftain was built for Nelson Line in 1928, the first of the five "Highland" Class. Her sisters were Highland Brigade, Highland Monarch and Highland Princess....................
After reading through your website, I have learned how you provide amazing support and information to our Veterans. It is great to see a forum dedicated to Veterans and their history.
My grandfather was in the 4th Marine Division on Iwo Jima and I am fascinated by all to do with WWII.
My name is Patrick Givens and I work for the Mesothelioma Cancer Network as the Outreach Manager. I am contacting you in hopes that you would be willing to add our website to your related links page.
Our brave service men and women that dedicated their lives for their country are unfortunately the most common victims of Mesothelioma.
The Mesothelioma Cancer Network is a great source of information on this rare type of cancer. I would be grateful if you would share our resource on your website so that veterans, patients and their families can better understand this terrible affliction. Ideally, our goal is to receive a single text link to Mesothelioma or you can add one of our Banners found Here, mesotheliomasymptoms.com/add-our-banners-2.
Please, just give me an e-mail back and let me know what you think. I hope to hear from you soon and have a great week! Best Regards, Patrick Givens Outreach Manager Patrick@MesotheliomaSymptoms.com
Fight the Survival Rate of Mesothelioma by Arming Yourself With the Facts You Need.
Army Clothing - Design your own Military Clothing We specialize in Military Embroidered Clothing including T-Shirts, Fleece, Sweatshirts, Polo and Corporate Shirts, Vests and Beanie Hats and more